How to Create Your Hourly Rate for Digital Marketing Services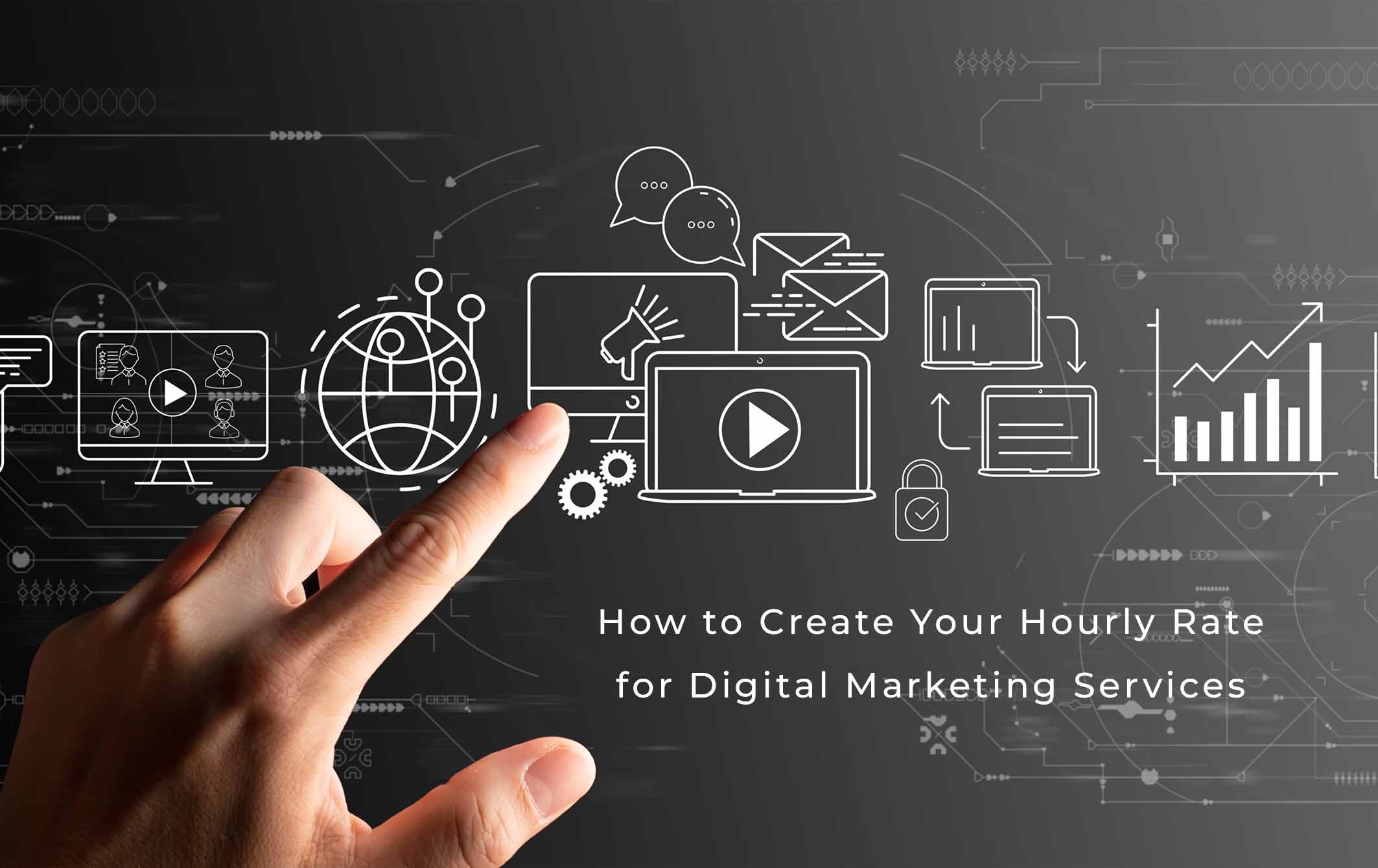 Digital marketing is a need of every small to large-scale business in order to propel its growth and sales. The far-reaching benefits of digital marketing have made it a trending investment in the modern market. It is a wide field that covers a wide range of following services:
SMM (Social Media Marketing) services
Design and Content Strategy
Engagement Strategy
Conversion strategy
Brand development
Identifying target customers
Setting objectives
Responsive design & development
Custom contact forms
Hosting support
Customer journey mapping.
Content strategy.
Information architecture.
Wireframing and prototyping.
UI design
Content creation services
Blogging
Article writing
White paper marketing
Email creation
e-book writing
SEO (Search Engine Optimization) services
Link building
On-page optimization
Off-page optimization
Keyword research
Content optimization
PPC (Pay Per Click) services
Remarketing Campaigns.
Campaign Management Setup.
Native Advertising.
PPC Audit Services.
Search Ads.
Display Ads.
Google Shopping Ads.
Local Services Ads.
Market research
Brand identity
Copywriting
Marketing automation
List management
Landing page creation
Optimizing mobile-friendly website
Single column layout.
Easy, simple navigation
Reduced graphics that best fit mobile applications
Formatted content for maximum readability
Digital marketing services of freelancers vs digital marketing company
Depending on the size and nature of the project, you can either hire a freelancer or a digital marketing company. Each of them carries its advantages and disadvantages.
1. Project division
A number of freelancers are easily available who would take the responsibility to carry out your digital marketing campaign. If you get the complete package at once then it will be a great benefit for you. Otherwise, if you have to hire a separate freelancer for SEO, content creation, or web development, it can be costly for your business. A digital marketing company has a team so you can give your entire marketing project to the company which is more convenient.
2. Difference in cost
The cost of a freelancer might range from a few hundred dollars to thousands of dollars depending on the expertise and experience of the freelancer. The average cost of hiring a digital marketing freelancer is $40-$100 per hour. On the other hand, a digital marketing company charges you $50- $500 per hour.
Types of digital marketing pricing packages
Hourly package
The client pays an hourly price depending on the work they demand from a company when they use the hourly marketing pricing model. A network marketing company offers an hourly deal for each service which is favorable when doing individual tasks like writing a few pieces of content for your website.
Monthly deal
With a monthly digital marketing pricing plan, the client knows exactly the amount to be paid for the services he uses each month. They will often see this pricing model on a contract basis. This can be great for regular income, and clients appreciate knowing their monthly expenditure is fixed.
Project-based deal
In a project-based deal, such as creating and launching a marketing campaign for your client's new product, a company is paid. With project-based approaches, agency and consultant collaboration might be enabled. If you did well on their most recent project, this can be a smart strategy to get them to hire you again.
Hourly pricing of digital marketing services
| | |
| --- | --- |
| Marketing services | Cost |
| SEO (Search Engine Optimization) | $15-$30 per hour |
| Email marketing | $15-$25 per hour |
| Social media marketing | $20-$60 per hour |
| Content creation | $15-$70 per hour |
| Web development | $30-$90 per hour |
| Pay-per-click advertising | $20-$60 per hour |
The cost of digital marketing services depends on what factors?
The niche of your business
Their current traffic to your website
How fast services do you want
Your competition in the market
The quality of work you demand
Size of your business
Experience of the company that you hire
Why hire a digital or network marketing company?
A digital marketing company can benefit you in a number of ways as compared to freelancing. Let's know are advantages of hiring a network marketing company:
Digital marketing companies will save money especially if you have a large business or company. Instead of paying separately to freelancers like to a content writer and separately to a website designer, you can hire a marketing company that would reduce the cost of a marketing campaign. A network marketing company has a team of employees who would work on your entire project and you just need to pay for your project as a whole.
Ensure the success of your project
An agency will have employees that have spent their entire professional lives doing just what you need for a successful digital marketing campaign. A company hires employees who are well qualified and are quality driven who would work to increase the ranking of your website for marketing and generate more traffic.
Do you know that a marketing campaign can generate a great deal of income for you? Yes, a successful campaign can create big benefits. A marketing agency will work until your ROI graph starts rising. While a freelancer will ensure you temporary results. Thus, a digital marketing company is a good option.
Your business can improve brand recognition among customers and target markets by making long-term investments in digital marketing methods. Social media services aim to provide value to your target audience, whether by producing unique and informative content that responds to user inquiries or by interacting with people on social media sites. Your online brand will be enhanced if you put your customers' needs ahead of your sales targets.
Leads you ahead of competition
The marketing strategy applied by a network marketing company makes your business prominent. Your business is always in competition with other brands in your niche. You have to propel up in your market which becomes easier when you apply a marketing strategy. A digital marketing company has tactics and artificial intelligence tools that lead you ahead of the competition.
What should be your next move?
It has very much clear that a digital marketing company is undoubtedly a booster for your business growth. It is important that you choose the best marketing services for your company at the fittest price package. The biggest hurdle is choosing a website for marketing of our company. We offer the best marketing services- our in- house team at Influencive media works with the best of expertise.